NAA Inflation Tracker: February 2023
Date posted
February 14, 2023
CPI, Latest Release, January 2023
Inflation continued its path in the right direction in January, rising 6.3% year-over-year on a seasonally adjusted basis, slightly higher than consensus forecasts. This was the seventh consecutive month of deceleration. On a monthly basis, prices rose 0.5% after a December adjustment from -0.1% to 0.1%. Core CPI, excluding food and energy prices, stayed elevated at 0.4%. Energy prices turned upwards once again, following two months of decline, rising 2.0% over the month.
The Fed has started to focus more on what is being termed "super core" inflation, that is, CPI excluding food, energy and shelter costs. After moderating throughout Q4 2022, this measure trended higher in January, but is well off-peak year-over-year (3.9% in January 2023 vs. 7.6% in February 2022).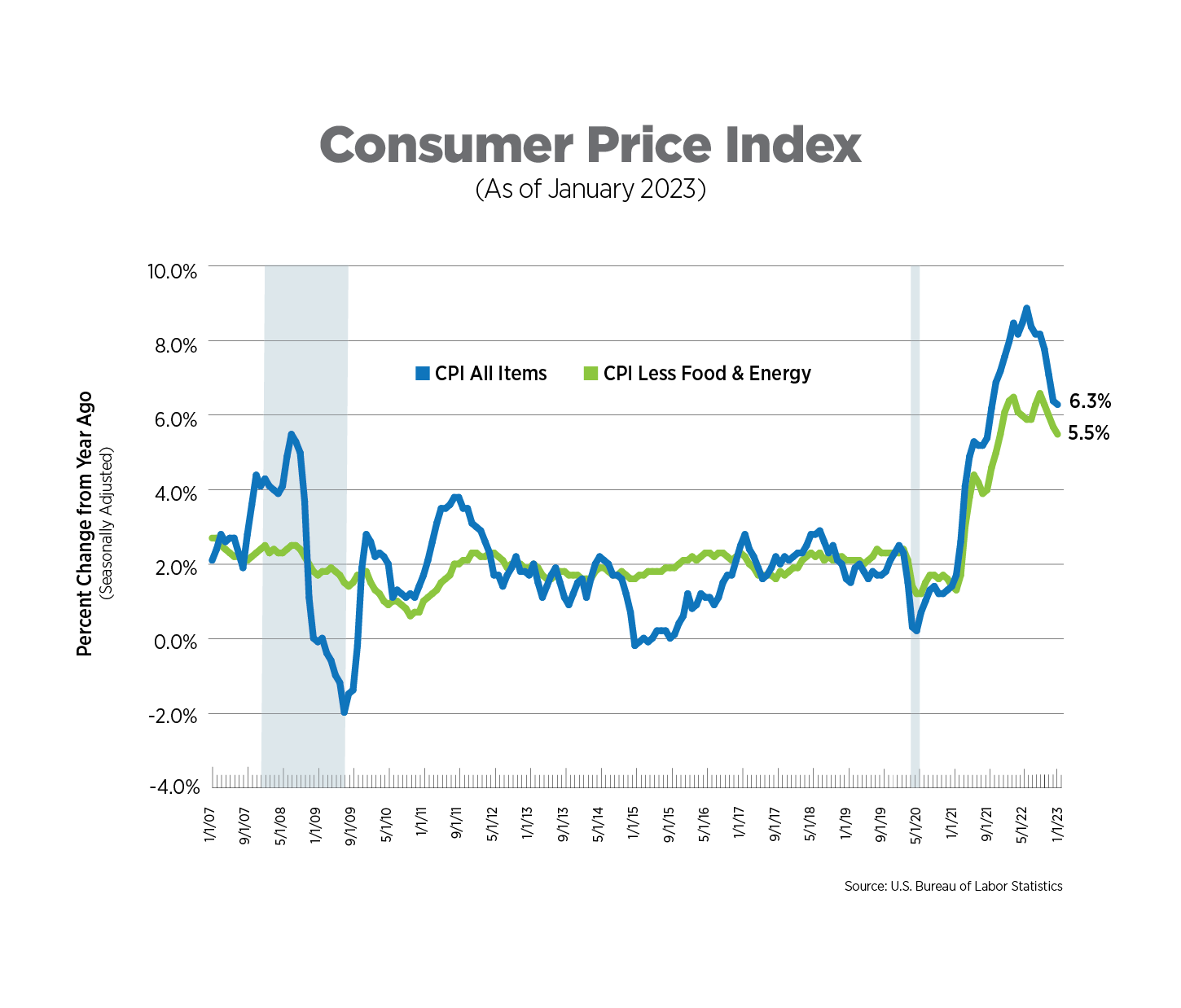 CPI for Housing, January 2023
The CPI includes two measures for shelter costs: owners' equivalent rent and rent of primary residence, both of which are self-reported. Together, they comprise about one-third of CPI. Both measures continued their ascent in January, rising 7.8% and 8.6%, respectively, although monthly figures may be showing signs of moderation. As discussed in prior Inflation Trackers, CPI data for rent tends to lag private sector data by an estimated 8-12 months.
Last year, the Cleveland Fed partnered with the Bureau of Labor Statistics to create a new index called the New Tenant Repeat Rent Index, which focuses on rents for new leases. This quarterly measure peaked in Q2 2022 at 11.9% year-over-year and fell drastically to 6.0% in Q3 2022, the most recent data available. The impact of shelter costs on inflation should begin to ease as we head into the summer months.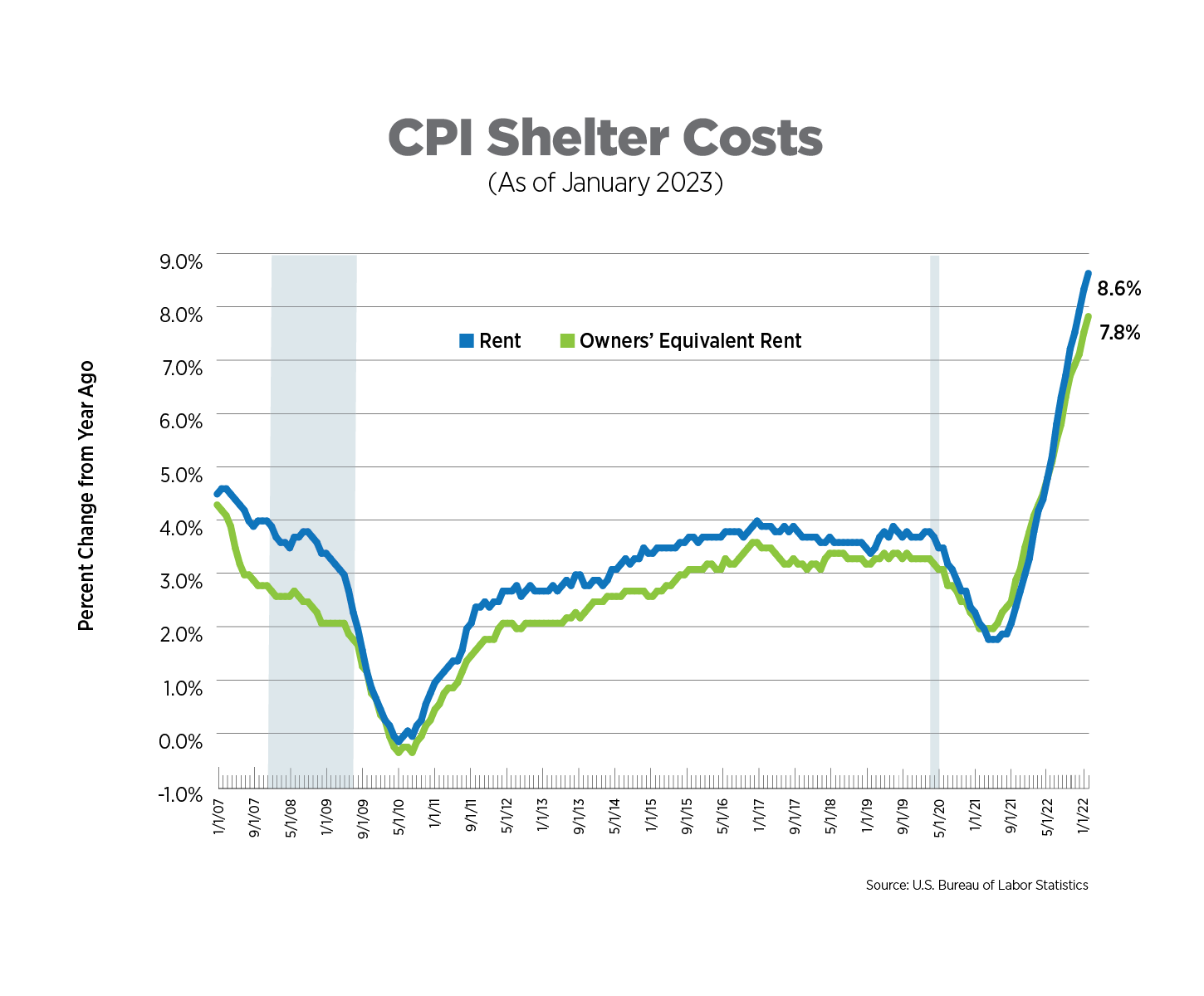 Trough to Peak Change in Prices, Selected Categories, December 2022
By the end of the year, prices for some goods and services were showing clear signs of topping out. Fuels/utilities, furniture and moving/storage/freight had experienced price declines for 3-5 consecutive months after cumulative increases of 24% and higher over the prior two years. Tools/hardware/outdoor equipment, housekeeping supplies and water/sewer/trash services had yet to see any relief in price run-ups.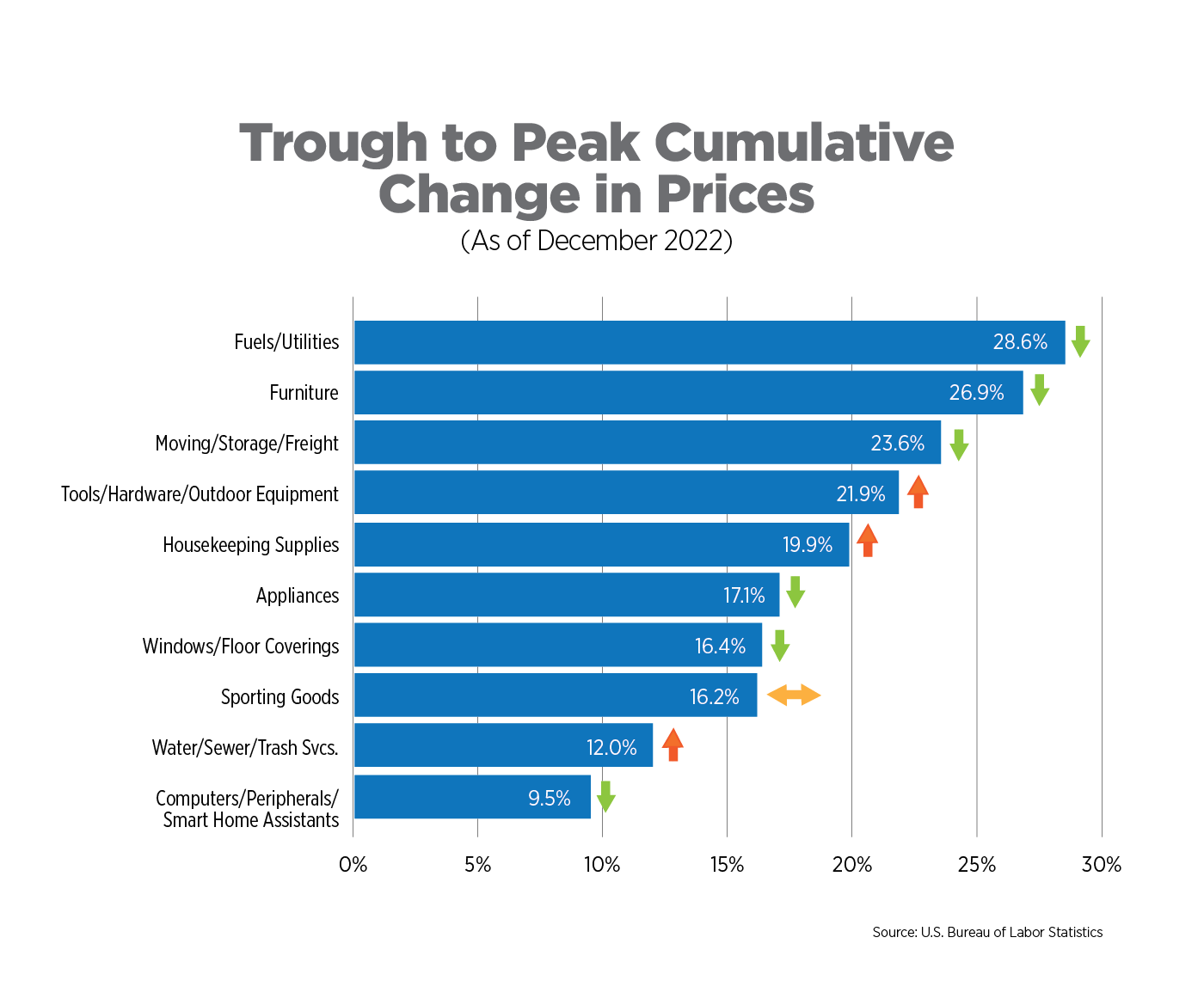 Inflation Expectations, December 2022/January 2023
The Fed tracks 21 different measures of inflation expectations. The data presented in the chart below are inflation expectations one year from now from the Federal Reserve Bank of New York's Survey of Consumer Expectations and the University of Michigan's Consumer Sentiment Index.
Both measures are at their lowest levels since the spring and summer of 2021 when inflation was just starting to ramp up. The steady declines over the past several months are a signal to the Fed that inflation may not become entrenched in consumers' psyches. However, expectations remain highly elevated from pre-pandemic levels and consumers will need to see more evidence in their wallets before those levels normalize.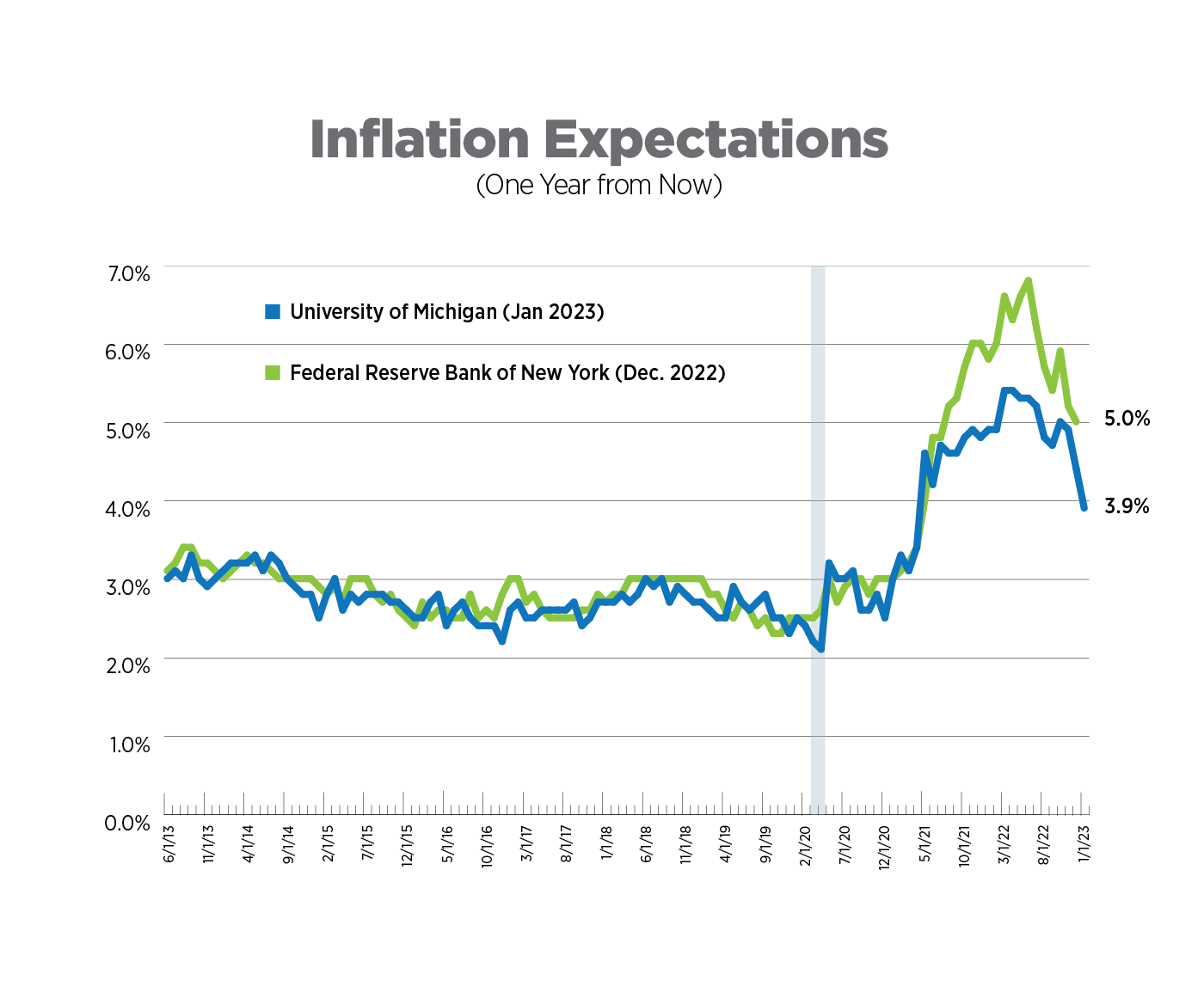 The Employment Cost Index (ECI) is a quarterly measure of the change in the costs of labor. Unlike average hourly earnings, the series typically used for wage growth, the ECI calculation is not impacted by the change in employment levels among occupations and industries which can significantly skew wage levels. It also includes the costs of benefits to employers. The ECI is considered a purer measure of labor costs and is closely watched by the Fed.
Both wage growth and the ECI have moderated over the past two quarters and have likely peaked. But with labor market indicators strengthening outside of the tech sector, it may be too soon to call a high. Job openings once again surpassed 11 million in December, raising the ratio of openings to unemployed persons to 1.9. Initial claims for unemployment remain at historically low levels as does the unemployment rate.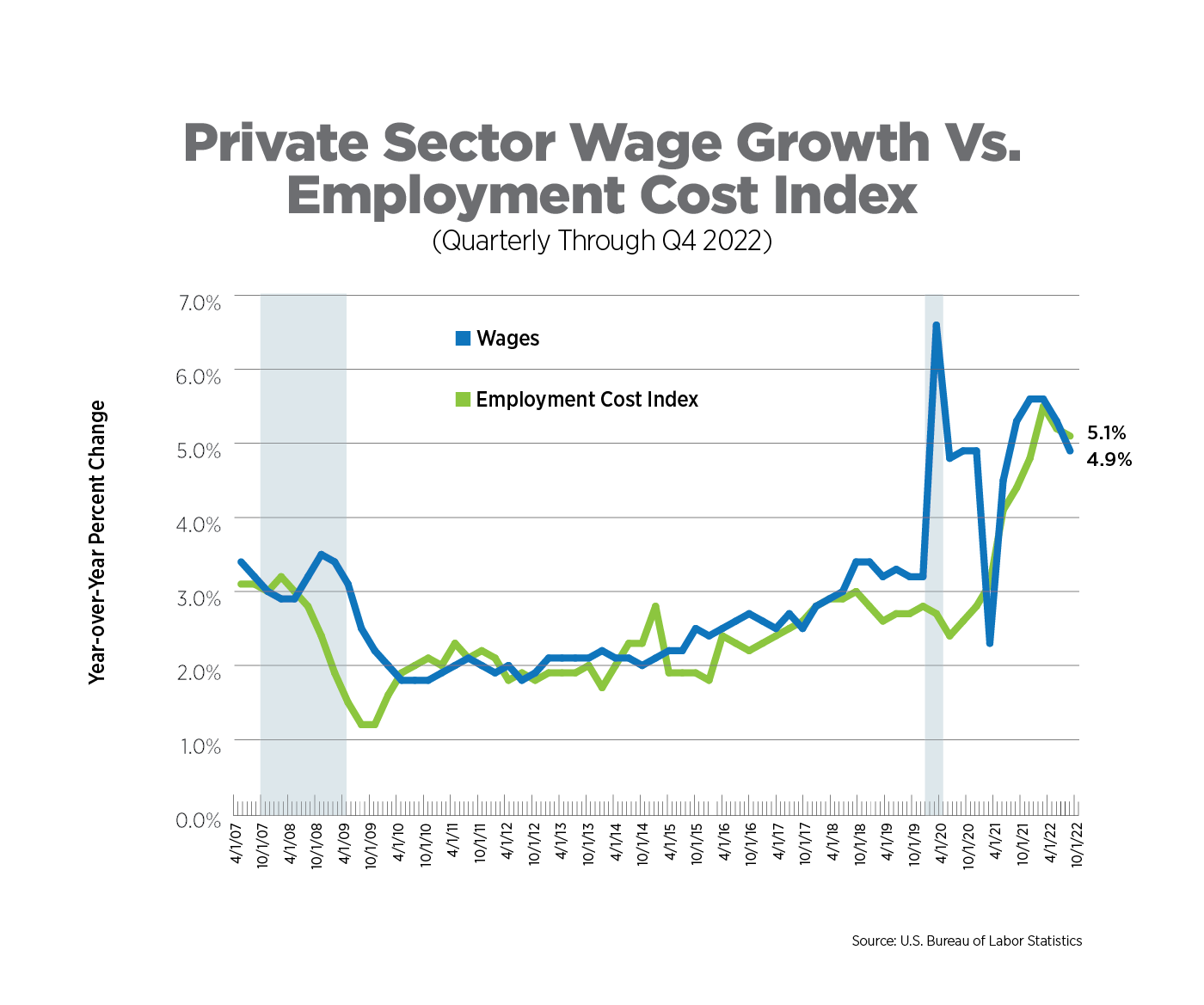 What to Watch in the Next Month
The Bureau of Labor Statistics makes seasonal adjustments to CPI every January. In January 2023, it also adjusted weightings of CPI components, with shelter having higher weights and food and energy somewhat lower. With shelter measurements still on the rise, these new weights will put upward pressure on CPI in the coming months.
In recent public comments, Fed chair Jerome Powell stated he did not expect a smooth decline getting back to its 2% target for CPI, but a bumpy one, implying that we may well see some months of rising inflation in 2023.

Next Tracker: March 14, 2023