SDMHA is 50 years old this year! Let's Celebrate
It was interesting going through the history of SDMHA, talking with long term members, and fun to look at old photos and articles.
Watch a short video, and enjoy reading the following highlights.
December 18, 1970 Sioux Falls Rental Association was officially formed. The original Directors were:
John C. Sprecher
Jerald K. Leesch
A. A. Klaudt
Marvin L. Haffner
Arnold E. Murray
James E. Collins
Jerome R. Collins
December 1, 1977: changed to Rental Owners Association of Sioux Falls.
July 17, 1978: changed to Rental-Owners Association of South Dakota, Inc.
December 8, 1981: changed to South Dakota Multi-Housing Association, Inc. Which is still how we are known today.
Our first Golf Classic took place in 1990 in Hartford. Our 30th Golf Classic takes place on July 15, 2020 at the Brandon Golf Course.
The first Vacancy Survey started in Sioux Falls in 1996. Black Hills Vacancy Survey began in 2018.
March 1997 Crime Free Housing Program began in Sioux Falls.
2006 our website, www.sdmha.com, was launched. With a refresh in 2011 and 2018.
September 2000: Black Hills Area Multi-Housing Associate was established. In 2019 BHAMHA disbanded and joined SDMHA.
2011 was our first Maintenance Mania. 2020 Maintenance Mania is set for March 19th at the Sanford Pentagon.
2013 the Vermillion Chapter of SDMHA was formed. And SDMHA assisted in the legal battle on city codes for multi housing
Legislatively, we have over the years, actively worked on (for and/or against) numerous issues. Here is just a sampling:
2000: HB1144 (Reasonable attorney fees). And HB1149 (Residential Rental Agent License)
2007: Sioux Falls Rental Registration was instituded.
2011: defeated SB78
2012: Multi Housing Day at the Legislature. Housing Day at the Capitol is January 30, 2020.

HB1058 (increased cost of criminal reports to $20)
SDMH PAC was organized

2013: First attempt at reclassifying leased residential property
2015: SB100 (2nd attempt at reclassifying leased residential property)
2019: Defeated tax on Commercial Washer/Dryer income
2020: HB1067 (Change to eviction law/process)
If you have pictures or stories from the past 50 years, I would love to add them to our library. Please call me, or scan and email me your items.
NOW WE L.E.A.P. INTO THE FUTURE!
Where our focus is on building LEADERSHIP, EDUCATION for ALL in the rental industry; ADVOCATE for YOU and our industry locally, statewide and federally; and buiding PARTNERSHIPS across our state.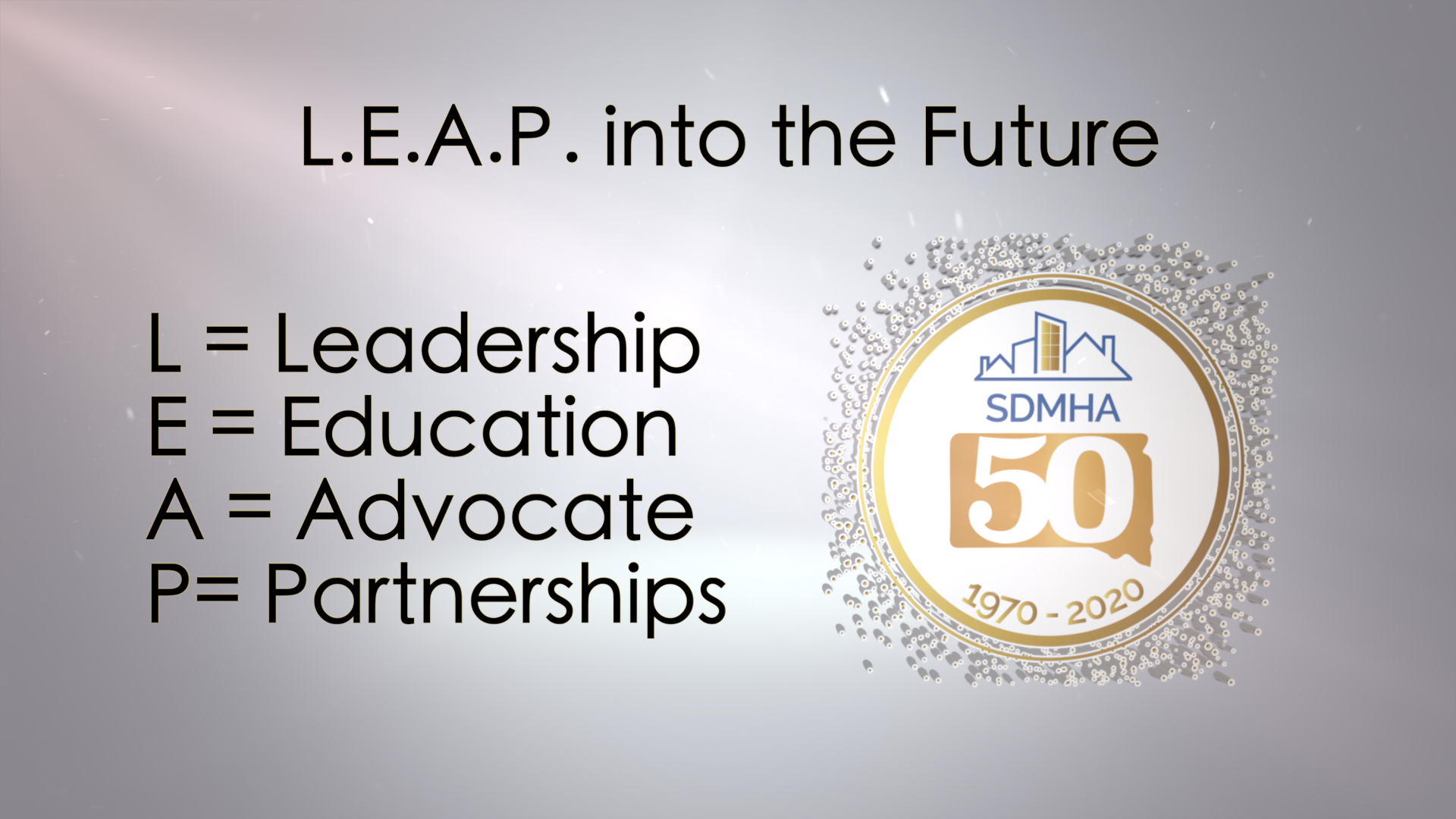 WE NEED YOUR HELP to show a unified voice for the multi family industry across South Dakota. From Rapid City to Sioux Falls and to the farthest corners of SD, we are looking for those that are passionate about our industry and are willing to speak to others about the obstacles you face, solutions to issues, and how SDMHA is benifiting you.
We currently have a Membership Challenge going on. For each new member you refer to join (and pays), you will receive $25 CASH!